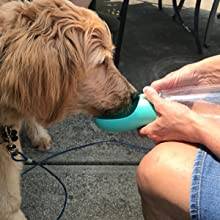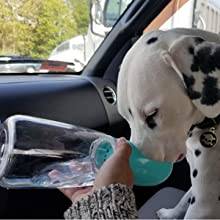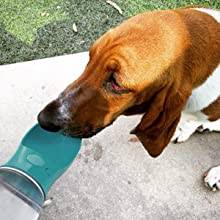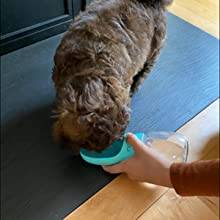 Unique Design: Cute travel water bottle for pet. Unique function: The head of bottle can be connected to general mineral water bottle (30 mm bottle necks) directly, never worry about the water in bottle not enough. More convenient to feed your dog at anywhere.

Leak Proof: This puppy water bottle dispenser with one-key lock and a small security button which ensure it will not unlock by accidentally touch in bags. A durable sealing rubber ring can avoid water leak. Never worry about it lay in your travel backpack.

Portable & Easy to Use: Portable and lightweight design, This Pet Water Bottle with Compact size, can be put into a backpack easy or hang on your hand with sling rope. One hand operation to lock and release. Best choice for dog drinking on travelling, walking, hiking, jogging.

Safe & Durable Materials: The Durable dog water bottle made of high quality food grade material. make sure your pet safe when they drink from this water dispenser bottle.